Do Animals Dream?
A downloadable game for Windows and macOS
Do Animals Dream? is a cute and cuddly adventure game with a dark disturbing secret. You play as a human who has shipwrecked on a mysterious island of cute talking animals. You're tasked with saving their leader, Lord Lionidas! To save him, you'll need to make friends and work together with the local critters.
𝗖𝗼𝗻𝘁𝗲𝗻𝘁 𝗪𝗮𝗿𝗻𝗶𝗻𝗴:
This game contains extremely disturbing content and explores themes of self-harm, sadism, and death. This game is not suitable for children of any species.

This game will forever change how you view animals, in one unforgettable adventure! Truly unforgettable... you will see things that C̴̠̣̽̒̈́Å̷͉̑N̵̺̲̑̽̀N̷̬̭̗͙̂̐̚Ơ̸͔͖̣Ť̴̥̼̹̩̆ ̷̢̼̺͑͗ͅB̵͖̈̕Ë̷̻́͗ ̸̟͇̀͠͝U̵̺̥̕N̷͇̣͒Ṣ̸̼͉̀̎́͝Ë̴̳́̀͆͝È̵͕̠͉̒̋̄N̷̝͈̺̫͐͂̎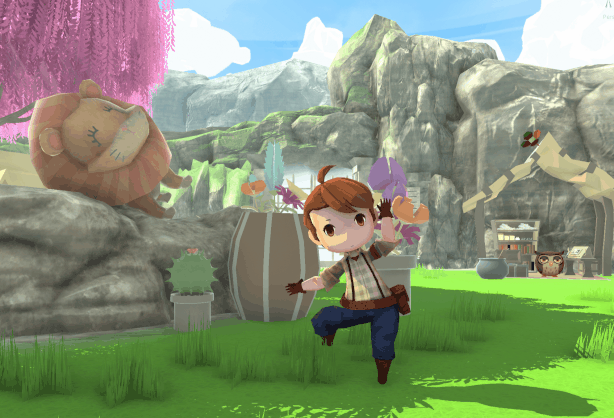 If you succeed in saving the Lord, you'll join in a grand feast to celebrate!
As you complete quests throughout the island, you'll face difficult questions...
- Where are your fellow sailors?
- Will you escape and return home?
- What is the island's dark secret?
- How the hell is that owl speaking to you?
- And most importantly... Do Animals Dream?
Features
Fun Conversations: Multiple dialogues with the various animals on the island about nature, life, and the mystery of the island.
A Mysterious Place: Discover hidden secrets on the island through exploration.
A Rich Narrative with Multiple Endings: Explore how your decisions impact the island and its animals.
Purchase
In order to download this game you must purchase it at or above the minimum price of $7.99 USD. You will get access to the following files:
Comments
Log in with itch.io to leave a comment.
This game was a ride holy crap lol. I pretty much share all my thoughts in this video!
Note: This review is meant for steam. I wrote this review here since yeah... I can't write a review when my steam is only a limited account.
Okay. So... It kinda took a long while to write this review since yeah.. LIFE. (Excuses... excuses... I know Lol) Anyway, back to the discussion. I did come up with all three endings! Which was also a huge achievement for me. Lol I loved the game as ever. I totally recommend to try it you guys. The plotline was very cool with a tinge of unexpected twist. Gameplay was smooth. No lags or bugs so far except when sometimes I find it hard to swerve the character from left to right (but that's just my computer lol) The subject matter presented was thought-provoking but it can be a hassle to some that chose the long answers since they might be to "lazy" to read. Lol Congrats on upgrading the character developments on the game. At least Ash has a say to things now. It wasn't as "graphic" as I've expected but the music did gave you those creepy vibes on certain scenes. I do not consider this a "strong propaganda" to convert to Veganism but it does make you think twice not only about the choice in diet but also in life as a general subjective perspective. Dialogue with certain characters (depending on which persona you click with) can be either mundane or interesting or just downright "oh?". But all in all the game play has improved a lot over the course of the developments. If I did have resources, definetely I'd buy this game. I'm hoping for some "extended plotlines or additional interconnected stories" in this game (like for example, Claire and the pig which will really let you get engage with the game) when BVP has time to like enhance it a bit more (though I do admit they've already exceeded my expectations). It kinda leaves me hanging how the game ended for me like I guess for 30 minutes? Lol but hey, it's a good solid time for a good solid game play. I gave this one four stars. Four because I felt sad that I can't convince the chimp to... you know (lol spolier alert?) lol Plus, I got stuck with some areas (because the controls got messed up a bit?) but it's all good. Lol It does have a happy ending in a way? Lol P.S. I ain't that a harsh critic ya know.
I love the game to its very core! P.S. I only played its beta but still yeah.. 😍 Sadly, I don't have enough resources to purchase the whole official release so I'm hoping it will be available at least on android or be downloadable for free. 😅 Nevertheless, it's fine by me. Keep up the good work, guys! P.S. I super relate to Ash the ant though. Such an existential adorable little ant. uwu
Also..
I love the gameplay too. The graphics were super "clean". Choice of colors were appropriate for the eyes. And by appropriate, I meant it wasn't too heavy or too bright. It has the right amount of color grading not to become an "eye sore". The music was catchy. Good choice on the animal sounds. Dialogue was pretty clever and witty. I love the Descartes reference there.

Exploring the island has its mysterious quirks. It also gives you like an aerial view of it which is legit awesome. l also love how conspicuous yet intriguing the gates have been placed and the plot twist is just perfect for a unexpected suspense. I love the subject matter discussed throughout the characters of the game as well. However, Abe the ape can be pretty creepy when you walk backwards and his face suddenly appears on the entire monitor lol but I guess that's part of the beta glitch? I don't know. But yeah, overall the story line and game play are excellent and exceeded my expectations. Hoping to play more games for BVP soon! Kudos you guys. 🙂
Ahhhh! Thank you! Spoiler: New update coming soon that expands Ash's role!
Also, feel free to email us: doanimalsdreamgame@gmail.com. We'll try to get you a key if you can't afford it right now.
-Simple yet effective and entertaining.
-Great for multiple runs with the utilization of items given at each new start (after you get atleast 1 ending). It could use a save system to faster check some dialogue options (but this might be a feature update).
-Funny dialogues
First run is about 30 minutes to 1 hour depending on how much you want to explore and which ending you will have. After this it's up to you to see everything the game has to offer and it's a lot. It's worth it to make those re-runs.
In my opinion it is not heavy on veganism/vegetarianism/etc "propaganda" as some will say. It does make you think on your choices though and what changes should be made in the food industry.
Overall it is a fun game for everyone as long as you are not very sensitive an animal abuse issues (some are hinted, some are shown and they can be avoided all together based on your choices [especially after a change in an in game video]).
Exploration is recommended to get a full picture of the world.
Improvements could be made on a save system, smoother walking (sometimes your character will turn for so reason or seem stuck somewhere - but he is not, while looking at his back try to move back) and some additional options.
A future update could bring new things to the game as, since it's developed by a small team, it has missed some opportunities for extra branches.
You'll run into the occasional visual bug but nothing that will break your game.